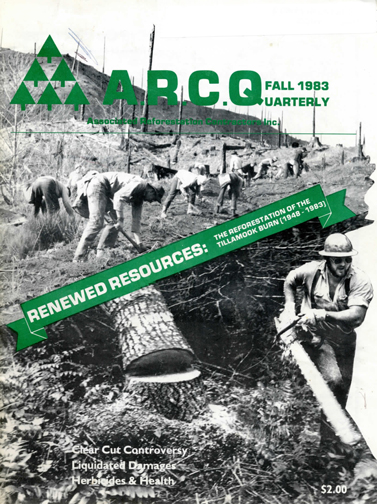 Cover Photo: The top photo was provided by Jim Fisher of the Oregon Department of Forestry and shows men planting trees on the Tillamook Burn in the early 1950s. The bottom photo was taken by Claudia Howell and is used by permission of The Oregonian newspaper. It shows the first tree being cut in 1983 on the first timber sale to take place in a Tillamook Burn plantation.
Lead Line; Facts and Opinions
REFERENCE: Zybach, Bob 1983. "Lead Line" (p. 4); "Facts and Opinions" (pp. 8, 9), A.R.C. Quarterly, Associated Reforestation Contractors, Inc. (Fall): 4, 8, 9. [PDF_4_MB].
TABLE OF CONTENTS & ILLUSTRATIONS: