The Great Cottage Grove, Oregon Ice Storm of February 2014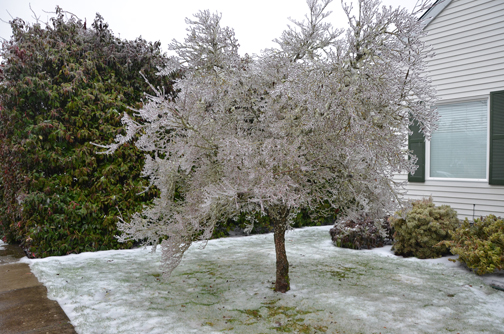 Here is a picture of a neighbor's tree, just to my east. Like many smaller and medium sized trees in the neighborhood, its ice-coated appearance was beautiful, almost magical. Note, too, the layer of snow covered by a sheet of ice on the lawn that characterized most other sidewalks and road surfaces in Cottage Grove throughout February 9, 2014. This is one of the few sidwalks within several blocks of my home that had actually been shoveled clean after the snow, yet was still covered with a thin sheet of ice. Photo by Bob Zybach.
This editorial is the inadvertent third in a sequence for the Cottage Gove, Oregon Sentinel regarding the need -- and opportunities -- for better management of the City's trees and other vegetation. The reason it is inadvertenet is that it may not have been written at all, except for the fact that my best car of all time was totaled by a diseased silver maple during the recent record (and mostly local) 2014 Ice Storm.
This series of Sentinel publications began with a front-page article revisiting the 50th anniversary of the Columbus Day Storm, and the need to apply lessons learned from that event to current circumstances: http://www.nwmapsco.com/ZybachB/Articles/Columbus_Day_Storm_2012/index.html
The Columbus Day Storm article was followed by a presentation to the Cottage Grove Urban Forestry Committee and, subsequently, to other groups in town: http://www.nwmapsco.com/ZybachB/Presentations/2010-2014/20121210_UFC/index.html
The local presentations were followed by a detailed editorial on these same topics last October: http://www.nwmapsco.com/ZybachB/Editorials/2009-2014/Sentinel/20131009/index.html
Outtakes & Addenda. These are captions and photographs that were selected by editor Jon Stinnett to not be used with this editorial, as well as a number of subsequent photos taken of the "Twin Firs" limb falls and the newly-selected "Bad Tree" of Cottage Grove: the leaning "Bonanza Drive-In Sequoia," taken with local model, McKenzie Mark (also the original model for the previous articles and presentations).
(And for those mystified by, or who might possibly share, my feelings of loss for my Miitsubishi Lancer O-Z Rally Sport, you are welcome to a better understanding at my FB memoir to that car: https://www.facebook.com/media/set/?set=a.10203255826535682&type=1&l=6973776c89)
Citation: Zybach, Bob 2014. "'Breaking' News: The 2014 Cottage Grove Ice Storm," Cottage Grove Sentinel. Cottage Grove, Oregon, February 19, 2014: pp. A4, A7. [PDF_2_MB]