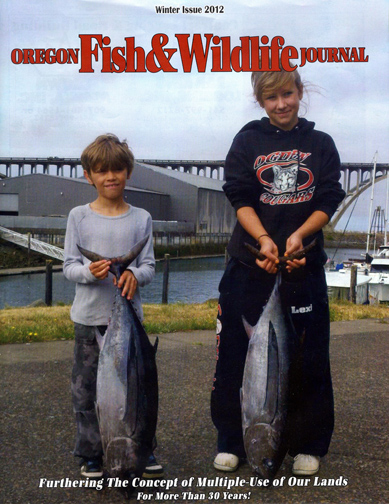 Noah Kastengren, Lexi Shirley, and Tuna at Newport, Oregon. (Credit R-Z Publishing, Inc.)
"Special Guest Editorial: My Voice"
This article, an introductory editorial, is the first of a series of four published in Oregon Fish & Wildlife Journal during 2012. The series was specific to the prediction and mitigation of forest and prairie wildfires in Oregon, but has general application for most forests and grassslands in the western U.S. -- particularly those lands managed by the federal government. The other three articles in the series and an earlier, related article I coauthored regarding Wildfire Economics (which is directly referenced in this introduction to this series), are linked in the table below.
This was first published in the Winter of 2012, by Cristy Rein, long-time editor and publisher of Oregon Fish & Wildlife Journal. The Journal doesn't publish an online version of their magazine for business and advertising reasons, but have a focused distribution of 10,000 copies per issue, including "all members of Congress and 1,000 doctors, lawyers, and business waiting rooms across rural Oregon." The large number of loyal advertisers are heavily represented by family-owned logging, trucking, sawmilling, nursery, landscaping, and construction businesses.
To contact Cristy Rein or Oregon Fish & Wildlife Journal, go to: www.oregonfishandwildlifejournal.com/
REFERENCE: Zybach, Bob 2012. "Special Guest Editorial: My Voice," Oregon Fish & Wildlife Journal, Vol. 34, No. 1: 5. [PDF_2_MB]
| | |
| --- | --- |
| | Zybach, Bob 2012. "Forest Restoration: Problems and Opportunities," Oregon Fish & Wildlife Journal, Vol. 34, No. 2: 15-27. [PDF_4_MB] |
| | Zybach, Bob 2012. "Predicting Oregon's 2012 Major Wildfire Events," Oregon Fish & Wildlife Journal, Vol. 34, No. 3: 29-39. [PDF_3_MB] |
| | Zybach, Bob 2012. "Predictable and Preventable! Oregon's 2012 Wildfires," Oregon Fish & Wildlife Journal, Vol. 34, No. 4: 7-17. [PDF_3_MB] |
| | Zybach, Bob, Michael Dubrasich, Gregory Brenner, and John Marker 2009a. U.S. Wildfire Cost-Plus-Loss Economics Project: The 'One-Pager' Checklist (online version). USDA Wildfire Lessons Learned Center: 9 pp. [PDF_1_MB]. |