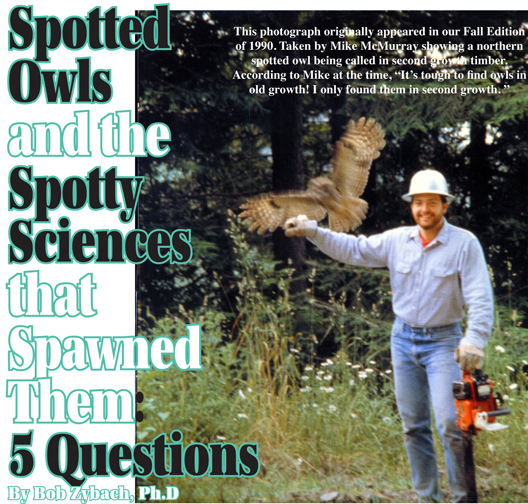 Spotted Owls and the Spotty Sciences that Spawned Them: 5 Questions
Citation: Zybach, Bob 2013. "Spotted Owls and the Spotty Sciences that Spawned Them," Oregon Fish & Wildlife Journal, Vol. 35, No. 3: 29-37. [PDF_12_MB]
This article/editorial presents five questions regarding spotted owls in particular and the 1973 Endangered Species Act in general. These suggested criteria are intended to provide a basis for purposes of both public discussion and formal scientific review:
1. Are Spotted Owls Even a Species?
2. What is so "Critical" About "Habitat"?
3. Are Barred Owls a Living Example of "Natural Selection?"
4. How Reliable Are Computerized Predictive Models?
5. What Do Government Scientists Say About Owl "Recovery" Plans?
The text from this article and discussions of these criteria were posted prior to its publication on several blogs, electronic newsletters, and email discussion strings. The intial posting, a citation and link for A New Century of Forest Planning blog, and a PDF file of its contents as of July 15, 2013, are provided below:
Citation: Zybach, Bob 2013. "Spotted Owls & the Spotty Sciences that Spawned Them: 5 Questions,"A New Century of Forest Planning [Note: these off-site links are still operative as of November 17, 2016], Just Another WordPress.com Weblog: June 19, 2013. [PDF_1_MB].
More Oregon Fish & Wildlife Articles by Dr. Zybach