The New Era Newspaper Interview
Sweet Home, Oregon
November 28, 2007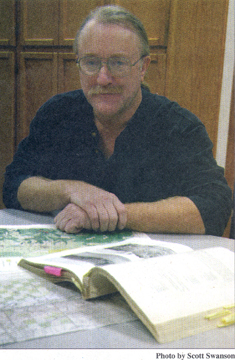 Interview photograph by Scott Swanson, editor, at the offices of The New Era weekly newspaper,Sweet Home, Oregon, November 23, 2007
Click for larger images or to print.

Swanson, Scott 2007. "Scientist: Forest Conditions Spell Danger," The New Era, Sweet Home, OR. Vol. 78, No. 48 (November 28): pp. 1, 10. [HTML version; PDF version (11.8 mb.)]
This interview was conducted by Scott Swanson, owner, editor, and chief feature writer and photographer, of The New Era newspaper. The New Era is a weekly publication that was founded in 1929. The interview regards a presentation that was given that evening in Lebanon, Oregon for the South Santiam River Watershed Council.
Excerpt:
"The important thing that people in Washington D.C. need to know is that the forests to the east of Sweet Home have deteriorated significantly in the past 50 years and created an extreme wildfire risk to rural and urban residents in the Sweet Home area," he said in an interview last week.